Daya, a district in Taichung City, is holding the 2014 Daya Bazai Arts Festival to showcase the artistic atmosphere and unique regional charm of the district. In conjunction with the Cultural Affairs Bureau of Taichung City Government, and following the success of last year's Arts Mask Parade, Daya will again be showing the world that there is more to the district than just the wheat production it is famous for. The festival, focused around the theme of "Bazai" will be held at Daya Park, and starts at 9:00 on Saturday May 24.
Kites feature strongly in this year's event, with ten super-sized kites from Daya schools on display, together with 500 creatively decorated and painted regular kites, while the dragon dance team from neighboring Dali district will be joining in the celebrations. By donating any two unified tax invoices from May and June you can take part in the DIY painting activities, which include Beijing opera face painting, kite painting, and masks. The public is also welcome to join in with the barley tea tasting and on-site quizzes, and join our theme of "Art and Charity".
Daya district was originally known as Bazai, hence the name of the festival. The Pingpu Aborigines who first inhabited the area called it Aniba, literally "muddy land", and when Han Chinese settlers first moved here they renamed it Bazai. The modern town originated from the intersection of Yatan and Xuefu roads, and the rich history of the town hides stories unknown to most people. As the saying goes, "when you eat the fruit, you must worship the tree. When drinking water you must think of its source." We aim to develop and promote the fascinating cultural heritage of Daya to community residents and beyond.
This will be the second Bazai Arts Festival, and it will combine the characteristics of music and sports from local elementary schools, together with the cloth painting supported by the local Kim Ji cloth manufacturers. There will be 120 cm-wide kites painted by elementary and junior high schools, as well as a painting competition involving 500 entries from local schoolchildren, judged by local school authorities and culminating in a grand exhibition of the entries.
Also on the day the "donate invoices, have fun with art" event will take place. By donating two invoices (from the May–June 2014 period), participants can join in the activity, which involves face painting in a Chinese opera style, kite painting, or mask painting. All of the donated invoices will be passed on to charity so that the winnings from those invoices will contribute to public welfare.
There will also be a series of performances by students at local schools including Ruliu Elementary School (Xiaojiutian War Drums, the Third Prince), Daming Elementary School (dance, percussion, and symphonic band), Shangfeng Elementary School (folk sports, wheelbarrow races, Diablo, and more). The dragon dance team from Zhenkun temple in nearby Dali district will be performing a dance called "prosperity brought by the golden dragon", and together these events will convey the lively artistic beauty of Bazai, as well as providing a link to the cultural heritage of the district. With this "impression of Daya" we can shape the arts, humanities, and living space of our district.
Event Contact:
Daya district office – Humanities Section
Section Manager Mr. Yu (余瑞發) Tel 04-2566-3316 Ext. 270
Section Officer Ms. Chou (邱薰慧) Tel 04-2566-3316 Ext. 275
Location: Daya Park (Great Southern roadside clear zone)
Time: May 24th 2014 (Saturday) 9:00 am to 12 pm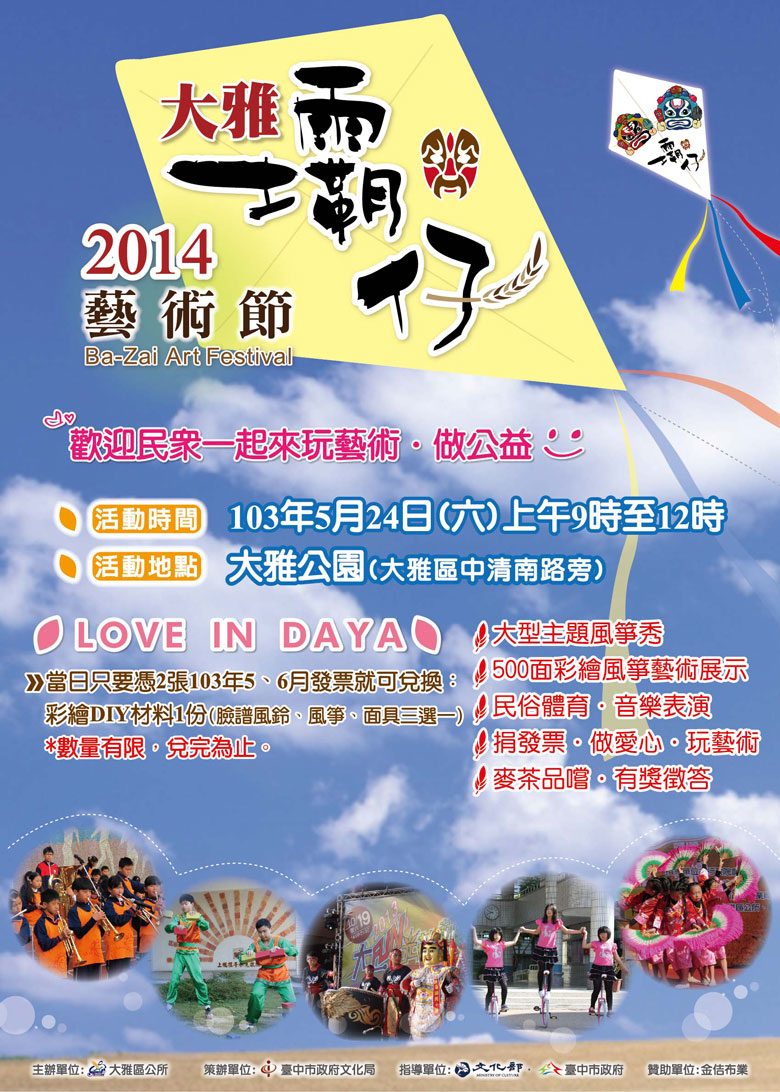 Photos courtesy Daya, Taichung City District Office, and are from 2013.