You will know Steve McCurry because of one of the most iconic photos of the 1980s, that of an Afghan refugee girl which appeared on the cover of National Geographic in 1984.
Although this photo is not actually in the exhibit – it only appears at the entrance as in the main photo above – the range and beauty of McCurry's work are apparent as soon as you enter.
The way the eyes of his subjects tell their story is magical, and the design of the whole exhibit is as strong as it always is at the Museum of Contemporary Art. We went with a 10-year-old and there was nothing too graphic, although the rather large bare bottom of a male statue was apparently hilarious.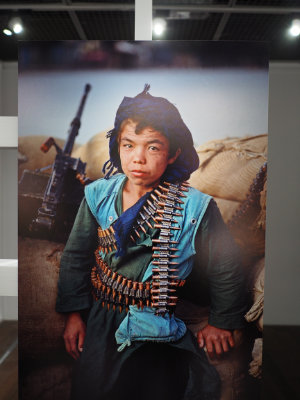 Having said that, there are serious issues on display, especially the photos from Afghanistan. In particular, there are two photos of young boys with guns. It appears that one of the boys is too young to understand the situation, whereas the slightly older boy seems to be much more aware of his situation. At least this was our interpretation, and it led to an interesting discussion.      
The exhibit ends on May 6th so you will have to hurry, but it is highly recommended. Also of note, you can buy his books at the various Eslite branches. I couldn't find anywhere in Taiwan selling prints (if you know of somewhere please let me know), but you can buy them directly from his website (http://stevemccurry.com/).   
Haste thee back Mr. McCurry!
Details:
Steve McCurry's website: http://stevemccurry.com/
Museum of Contemporary Art: http://www.mocataipei.org.tw/
Link to the exhibit (but this will be time sensitive). http://www.mocataipei.org.tw/index.php/2012-01-12-03-36-46/current-exhibitions/2573-steve-mccurry
Google map: https://goo.gl/maps/tyW1VTvg6U82